Sometimes there are hardships in intimate relationships.  These hardships often show up as:
-Lack of desire in your sex life.
-Wishing your partner would do just the right thing to satisfy you.
-Feeling sad when the sex isn't what you expected.
-Believing that your sex drive 'stops' after 40.
-The same old "boring sex".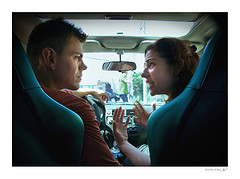 If you have had some of these hardships, I would like to share with you my knowledge and expertise in how to increase your desire for healthy sex, be able to communicate what you want, feel happy about your sex life, and enjoy more vigor in your life than you thought possible.
You can enjoy sexual satisfaction in your relationship.
Some of the ways to increase sexual satisfaction are by:
-Learning how to bring up the charge in your relationship by finding out how you can be in control of your own body more.  Hint: Have more fun with breathing for enlivening yourself first.
-Getting to integrity and respect for yourself and your partner.   A healthy sense of yourself, that you can maintain yourself through your own awareness, can bring more integrity for yourself, and more respect for you partner.
-Getting to a place where you calm yourself while being sexual.  Reducing your anxiety is a step towards calming yourself when your partner happens to be jittery.  It helps to learn to self-soothe so your partner's anxiousness doesn't also make you anxious.
-Learning about fun, high-energy sexuality that doesn't involve "pushing" for satisfaction.   You can uncover for yourself how tolerating high levels of energy in your body can feel like a fun tingling you maintain yourself with a few awareness, grounding, and breathing tools.    When with your partner, your satisfaction can be enhanced to include all parts of your body.  That way you don't overly pay attention to what your partner is doing and lose connection with yourself.
You might be saying, "Whoa!  How do we do all that?"
The subject of sex can feel overwhelming.  By beginning to talk with a relationship counselor, overwhelm can be reduced.  So many people never do talk with a trained third party to address their concerns.    Sexual satisfaction is a topic many put off to the side.     In relationship counseling, find out how normal it is to have sexual questions, learn new ways for satisfaction, and find ways to grow a fun, healthy sexuality with your partner!
You may be thinking "Shouldn't sexual satisfaction just happen automatically?"
It's natural to want sex to happen spontaneously. In the beginning the romance seems like it will go on forever.   When it doesn't, you can learn simple conscious breathing options, attention guidelines, and grounding techniques that can be doorways to increasing satisfaction.
Some people believe it's embarrassing to talk to someone about sexual satisfaction.
Sex is something many couples have talked with each other about over the years.   For those times when the lack of desire, little connection, and no respect feels overwhelming, a trained third party can help you solve these issues.   It's important to learn how you can take charge of your satisfaction so that you can grow your fun for years and years.
As an intimacy expert, I often hear  "It's my partner that needs to change! Why should we both have relationship counseling?"
We all commonly see our partners' limitations.   In relationship counseling, very effective tips include acknowledging what was taught to you in the past, which is commonly a sort of fused, or "glued-together" intimacy.  Happens all the time.  As the normal pressure increases for your relationship to be more real, a tip is to uncover your own value without diminishing your partner's value.   In other words, if you have high standards for them, uncover ways to hold on to yourself so you aren't asking so much of your partner, and pay attention to your own satisfaction without diminishing who they are.
Tim and Julie
A good example of a couple that improved their relationship was Tim and Julie. (Their names have been changed.)
These two people came in at the end of their ropes.   Julie was angry that Tim didn't try harder to satisfy her, and Tim found himself pulling back from Julie's expectations in the bedroom.  The initial sessions confirmed their love, willingness to grow, and realization that things couldn't go on like they had in the past.  They both enjoyed learning how to ground themselves while adding more energy to their relationship.   Midway through their therapy they both noticed how Julie was dropping her high standards of Tim doing the exact thing for her satisfaction.  She was practicing replacing her expectations with a more joyful participation.  As Julie became happier, Tim discovered he was responding sexually to her in ways that made him happier, since he had learned how to deal with his own pulling back, and was being more forward about what he liked, without HAVING to get it.     They both commented at the end how much they looked forward to practicing the breathing options, which made them individually feel more satisfied from within, and connected sexually.  I had watched them go from a normal "knot" of over-expectation and holding back, to healthier sense of selves, having grown in their beliefs about satisfaction.  They both were more frank with themselves, could calm and enliven themselves, and ended up with much more adult sexual satisfaction in the process.  They were more in charge of themselves individually, which made for a more satisfying sexual life together.
These clients and others know what it's like to go from a knotted, anxious sex life to a more mature relationship.   Through a series of techniques which builds up the charge in each person individually, you can go from expecting your partner to satisfy you, to the more adult experience of differentiation, or self-soothing, which both calms you and enlivens you from within, and your sex life with your partner grows. Individually you mature, and your sex life matures, in unexpected, alive, and vigorous ways.  The tips in this article (breathing, grounding, etc.) can be mastered by getting help from a professional.